To commemorate the 50 year journey of the Association, AIFI launched its flagship event – Forgetech India in 2016. Forgetech India is essentially a conference-cum-exhibition meet aiming to unite the forging fraternity. The event comprised presentations of articles on forging-related subjects as well as exhibition of companies exhibiting their products. It is thus an opportunity for all visitors to interact with the doyens of the forging industry, to observe the exhibits and get richer with forging knowledge.
The 1st edition of Forgetech India was held in Gurgaon in 2016 and had the participation of more than 800 delegates from all over the world.
The 2nd edition of Forgetech India which was held at Mahabalipuram in 2019 along with Asiaforge witnessed more than 1200 participants.
Due to the pandemic, we could not conduct the Forge Tech in the year 2021. Now that the event is being conducted after 3 years, we expect much higher participation from the forging community. Also, Western Region being the hub of Forging Industries there will be a much larger footfall than the previous editions of Forge Tech.
ForgeTech India 2023 Committee Members
Vice President - AIFI
Convenor

ForgeTech India 2023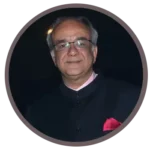 Co-Convenor

ForgeTech India 2023
Mr. Vidyashankar Krishnan
101/112 Nyati Millennium,
Off. Nagar Road Viman Nagar
( Near Datta Mandir) Pune – 411014, INDIA

Phone:
+91-20-2663-4451/4099/9322450873
Email:
info@indianforging.org
ASSOCIATION OF INDIAN FORGING INDUSTRY